YOGAPALOOZA: THE #1 YOGA AND MINDFULNESS COURSE FEATURING MEDDY TEDDY

FOR TEACHERS & EVERYONE WHO WORKS WITH KIDS
(… Even If You've Never Taught Yoga Before or Have an Existing Practice)
BARI KORAL AND MEDDY TEDDY, THE LOVABLE MEDITATING BEAR, HAVE TEAMED UP TO BRING YOU A FUN AND ENGAGING WAY TO TEACH MINDFULNESS AND YOGA TO KIDS.
Bari brings the yoga and mindfulness know-how in exciting new ways with original, magical music kids love. Meddy and his contagious smile gets children excited to move and try out new things as they learn about calming their minds and moving their bodies. It's the perfect match!

Whether you are a seasoned yoga teacher looking for great new content ideas for your classroom or just starting out your journey, this course is for everyone at all levels.
As a teacher, you already know the secret to teaching anything is keeping children engaged. And that can feel like climbing Mt. Everest on the worst days and running a marathon on the best! Yogapalooza and Meddy Teddy make it easy. 

Discover curriculum ideas, themes, music, games, mindfulness activities, and more that really capture a child's imagination. Learn the secrets behind everything as you nurture your spark to further ignite your own creativity.
"I'm in the training and love it so much. I already teach kids yoga classes but I'm still like wow this is all so relevant. The training is just so great and so well done.  It reminds me to always be a student.  I teach so much sometimes I feel like I'm on autopilot! The Yogapalooza training got me excited again. The reaction to the music and to Meddy Teddy has just been amazing. 
Plus I used to spend hours writing classes and themes. Now I can just fly through it because Bari songs and activities are like themes in themselves.  It's just life-changing really. "
Kristen Lang, Owner of Twisted Sister Kids Yoga Studio
My excitement and confidence to begin teaching began right away as I was taking the course. Even during the pandemic, I was able to teach socially distant and outdoors. I really enjoyed this course and I'm so looking forward to using all that I practiced. I love how Bari incorporates songs into the poses and her use of themes. I can't stop thinking about this course and imagining myself teaching yoga!

Robin Rivera, Adaptive PE Teacher

Meddy Teddy is my favorite addition to my class and my personal life!  What a great reminder of the benefits of moving your body and calming the mind. I Will definitely be adding Meddy Teddy into the class more often, the kids LOVED him.

Naja Crawford, Kids Yoga Teacher
Meddy Teddy is the lovable, huggable, posable meditating yoga bear that inspires both young and old alike. Meddy has helped thousands of people live their best lives and he is ready to help you and your students do the same! 
Teaching new yoga and mindfulness techniques with Meddy can help you relax, not take yourself so seriously, and have fun. Approaching teaching in this way allows you to build your confidence and have fun - something that kids really respond to! 
Use your Meddy to demo a new technique for the kids and even better yet, let them use their own Meddy (or yours) to demo themselves so they get tactile experience with the pose before trying to match it with their own bodies. 
When you're not teaching, Meddy can help your class stay centered and focused. There's something about Meddy that is calming. Just looking at him and taking a moment to breathe and match his calm, relaxed face is a good way to help get kids settled and back on track. Use him in new, creative ways throughout the day to get the class experience you've always dreamed of.
YOUR MAGIC WAND TO CREATE CALM

It's time to turn off the media, magazines, and everything else telling you that you have to wear the perfect workout clothes, be a certain body shape and size, or do beautifully executed backbends to be a yoga teacher.

You don't have to be able to touch your toes, pass a physical, or wait until the perfect moment to become an all-star yoga and mindfulness teacher. You can start right now. Meddy will help you see how your body needs to move as well as help you demo the poses for children. Seeing his smiling face makes it easy to let go and relax as you teach children to move their bodies in new ways.
This self-guided, go at your own pace, beautiful online training is for EVERYBODY. It is ready for you to use as soon as you'd like (no prep work needed)! Clear, engaging instructional videos, magical yoga songs, and amazing mindfulness activities make teaching as easy as possible.
Bringing music, movement, and mindfulness together with the help of lovable Meddy Teddy has so many benefits from calming the nervous system to bringing joy to your heart and spirit. These activities create joy, peace, calm, and a magical discipline in the   classroom.
YOGAPALOOZA, COMBINED WITH MEDDY TEDDY, IS EVERYTHING YOU NEED TO TURN UP THE DIAL ON KIDS YOGA, AND IN THE PROCESS YOU WILL GAIN MANY VALUABLE NEW TOOLS FOR YOUR OWN SELF-CARE AND HAPPINESS.
FROM THE FIRST THING TO DO IN ANY STRESSFUL SITUATION, HOW TO LET GO OF THE PAST IN 30 SECONDS, HOW TO RELAX IN WILD TIMES, AND MORE, A KEY TO YOGAPALOOZA'S POPULARITY IS ITS UNIVERSAL BENEFITS TO BOTH TEACHERS AND CHILDREN.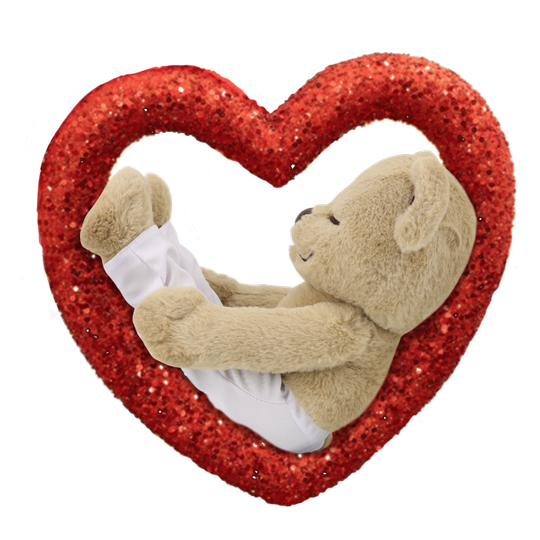 AN INSPIRING LEARNING EXPERIENCE, INCLUDING:
22+ yoga pose videos for safe and anatomically correct yoga
Hours of fun and easy online instruction - learn and teach whenever you want
Printable and colorful lecture notes - no prep work needed!
Step-by-step directions on how to teach each song and activity - no guesswork needed!
Popular mindfulness activities for self regulation (that will benefit the children you're teaching as well as yourself!)
Explanations of the science and development behind what you're practicing to help you understand and articulate the benefits well
Expanded Special Needs and Challenging Behavior Section to support a whole child's development no matter their struggles
An established community of teachers to exchange ideas, resources, and cheer you on
The secret to becoming a great teacher of yoga and mindfulness
All the knowledge you need to be confident and successful
Professional certification to take your teaching to the next level
ALL OF THIS (AND MORE) IS INCLUDED INSIDE OF YOGAPALOOZA:
Get ready to Meddytate! We'll grab a star out of the sky with Star Energy, Listen Like a Superhero with the Listening Game, Practice Attitude Gratitude, Learn Rainbow Relaxation, Meddytate with Bear Relaxation and Bear Breath, and master many more amazing mindfulness activities.
Over 25 MP3 Downloadable Audio Files featuring the best music which will become a major part of your classes including Bat Yoga, Going on a Dragon Hunt, The Yoga Alphabet, Teddy Bear Sun Salutations for daily warm up and cool downs, and many more kids yoga favorites.
Unlock your creativity to create amazing class plans and themes. The Teddy Bear Yoga Class with Meddy is our favorite! You'll also learn a Dragon Yoga Class and more!
Mindfulness MP3s with Grammy winning music and step-by-step handouts to make teaching engaging, fun, and easy.
The key to class planning and the simple class structure that works every time so you're no longer overwhelmed trying to get started.
SEE WHAT THESE EXCITED YOGAPALOOZA WITH MEDDY TEDDY GRADUATES HAD TO SAY AFTER COMPLETING THE COURSE AND GETTING TO KNOW THEIR MEDDY TEDDY

I am so thankful for your yogapalooza course and to be able to bring it to my students!
- Karen Zavalis Laurelli - yoga teacher and mom
"The confirmation that yoga with children can be loose and fun is so rewarding! I am thrilled to think of where I will be able to take things with all I discovered in your course. I'm not even sure where to begin on what I am most excited about sharing. Clearly your songs and activities will become a regular part of my classroom teaching. Sharing with the kids, however, is not the only thing I am excited about. I look forward to letting my teaching team know about all that I learned. Several of them took a more technical approach previously and I want them to know just how joyful yoga can be in a classroom."
- Debbie Dolan, classroom teacher
"I've been going through the Yogapalooza training and let me start by saying thank you. It's so sweet and informative with such great content and AMAZING songs. It's also very touching and inspirational."
- Dominique- Kids Yoga Teacher Reno, NV
"Amazing! I am loving this course. I already had several yoga resources, but this program takes it to a whole new level. The music and activities are fun and there is a wide variety to choose from. Thank you, Bari!"
- Susan Wright
"I always knew that mindfulness was great, but the course taught me how to teach it and made me more confident in spreading the message and the "why" of mindfulness and yoga. My favorite part of Yogapalooza is the science behind it and all the AMAZING ready to use activities that I was able to instantly incorporate into my lessons!
- Patty Roman, Social Worker
"My students love my clases! I am loving your online course. I ran the Teddy Bear yoga class yesterday for my public school students and they just loved it!
- Jennifer Tuthill, music and movement teacher
"The music is such a plus! I haven't incorporated music into my routine before taking this course with Bari. It's something that the children immediately buy into and love. I would totally recommend this course. Very well organized, easy to learn, and reasonably priced. Fun and creative..kids love the songs! The songs were easy to learn and stuck..I would be humming them all day! The kids too!
- Joanne Hellested, OT personal trainer

"I've been teaching for years and my enrollment doubled when I started using Bari's songs and activities. The kids just have such a good time in class."
- Elizabeth Luff, yoga and dance teacher
"Yogapalooza gave me the tools to feel calm and confident in teaching yoga to children. I particularly loved how it was themed based and how you can be as creative as you wish! The most unexpected result I got was my excitement and confidence to begin teaching right away. Ever since the training my mind is always on more ideas and more themes to bring to children! I loved the organization of the content and how it progressed. You can tell much thought went into the planning. I loved how Bari showed her songs and how they were used with children! To not share this amazing content would be heartbreaking especially when the need for it is more important than ever! "
- Robin Rivera, adapted PE teacher
"Yogapalooza is easy to follow, filled with Bari's music (which is so much fun), and offers an abundance of resources to help anyone get started in teaching yoga or to supplement a seasoned teacher's toolbox. I feel more confident and am excited to share what I've learned with my future little yogis!"
- Jana Teal, Library Associate
"This course teaches you FUN ways to engage children As a student of this practice myself, I learned how different kids' yoga is and I can't wait to start teaching what I've learned! All of these poses and dances can be modified to fit the needs of students with various abilities. The songs are so catchy and a complete HIT with kids... I even find myself singing them! I highly recommend this course."
- Michelle Kiernozek OT
"I have always incorporated yoga and mindfulness into my classroom, but in a not very intentional or structured way. But, I could still see that my students were getting a small sense of relief from the daily stresses, and I saw a greater benefit to those students who had other needs, such as ADHD or who were on the spectrum. The most unexpected result of the course: My own personal sense of calm. I went into this thinking it would help the kids, but I came out of it with tools that I can use to help myself!
- Mel Fifield, 3rd Grade Classroom teacher
"I took your course, and the children who couldn't lie still for five minutes began to lie still for longer periods of time each day and some of them even fell asleep! Mindfulness gives them the skills to self regulate and the yoga songs and poses will give them ways to relax or get some energy out depending on the time of day. We will be having a mindfulness time each morning before we start our day and will also be using it as needed throughout the day. Thank you for the opportunity and sharing your knowledge.
- Sally Smith, GSRP lead teacher-18 years

How does Meddy Teddy make this course better?

The combination of Yogapalooza and Meddy Teddy make this a homerun. Meddy makes teaching kids and practicing your own yoga and mindfulness so much easier and fun. Some of the content inside of Yogapalooza was created exclusively for use with your Meddy.


What equipment do I need?

Nothing more than a way to play the course! A computer, laptop, or tablet will all work well. 




What age ranges does your training cover?

The age range for the kids yoga music and activities is toddler and Pre-K to 3rd grade. Oftentimes, the music can be stretched 5th grade as well, depending on the children.

The training will teach you many poses, benefits, science and background plus give you specific music and activities to use in your classes. The added activities make it super easy to mix and match and plan yoga programs in no time.




If you plan to teach much older kids too then just stick to the yoga poses and knowledge you learn in the training (and maybe not use the music). Mindfulness is for ages 3-108 and beyond!

What if I've never taught yoga?

Bari covers everything in depth so you don't have to have previous knowledge to be successful at this!


I already have a good yoga practice in place with my students, do I really need this?

We think you do! Seasoned teachers will appreciate the hours of music, mindfulness activities, and new ways to engage children.


Will I be able to teach professionally with this certificate?

Bari is a globally recognized educator and this is a professional certificate. Bari is a certified E-RYT® 200, RCYT® & YACEP® Continuing Educator Provider. Yogapalooza: Yoga and Mindfulness with Bari Koral is RCYS Registered Children's Yoga School with Yoga Alliance. This training will fully prepare you to add yoga and mindfulness content into your existing classes, classroom, or practice. To go further, and establish a kids yoga profession, you need good training and also you will want professional liability insurance, which is affordable insurance and will cover you in additional locations like yoga studios, birthday parties etc, camps, after school clubs etc. With our certificate you will be able to get your professional liability insurance. Most yoga studios will accept this certificate and your insurance as qualification for being a children's yoga teacher. Many of our trainees are teaching professionally. 


Can this training count towards additional continuing education credits?

Successful completion of homework will result in a professional certificate of completion that can be submitted for up to 16 PD hours. For Educators and allied health professionals you will be responsible for submitting this certificate for any continuing ED credit.

You can, per Yoga Alliance, use up to 6 hours of online training towards Yoga Alliance CE.